17 Nov 2013
iPhone Apps To Explore Grand Canyon
The Grand Canyon is more than a popular tourist destination. It is a right of passage, a nostalgia bomb, that one place that seemingly every American remembers driving with their family to see as a child. It is just one of those places that it is assumed you will go to see, and a breathtaking look at what nature can create with millions of years to create it.
If you have not yet seen it, or if you just plan on going again, it has its share of tools dedicated to it. Apps are especially prevalent online these days, with guides and travel planners galore. There are even apps that teach you all about it.
Here are five you can get for the iPhone if you are planning on heading down to the Grand Canyon to any reason.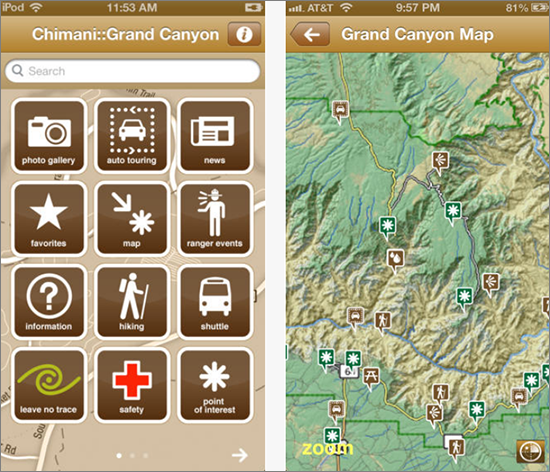 Take a pocket sized audio and visual guide along your hikes through the canyon. This app provides 45+ minute long audio tracks that take you through the trails. There are also more than 250 points of interest along the way, GPS enabled maps that work without a Wifi connection, road maps, shuttle bus schedules, sunrise and sunset information, photographs, hiking trails, scenic view locators and safety information. You can even plan your vacation, with a camping, accommodation, dining shopping and trail guide. (Price: Free)
Get thorough scenic and road maps through the Grand Canyon using this cool app from GrangerFX. Not only do they have details topographical information, but you can also do bird's eye view looks through the national park in 3D. Move things with the touch of a finger and single taps. It will record these movements and create a track which can be played back to watch on replay. (Price: Free)
Are you taking young kids along with you? Get them into the spirit of things with this awesome book app. It is easy to turn pages with a swipe of a finger, and it has a narration feature so it can read the story to them. Or they can turn off the narration and read it for themselves. The book has a search and explore option, fun facts about the Grand Canton, and a lot more. It is appropriate for kids age 4 and up, and is compatible with the iPhone, iPod or iPad. (Price: Free)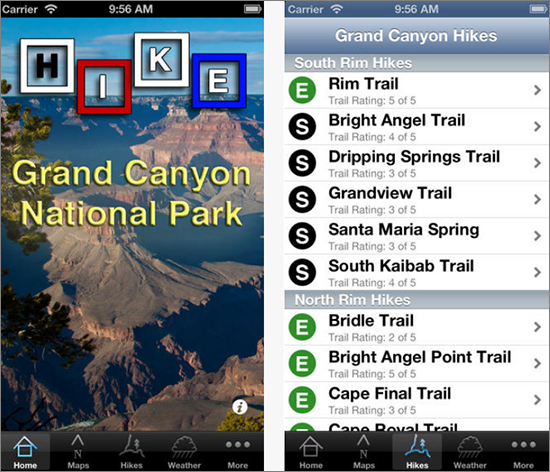 Avid hikers who want to take advantage of the wonders of the Grand Canyon will love this app. It is full of up to date and detailed trails from all over the national park. Each of the trail pages provide information on the trailhead, distances elevation changes, hike difficulty and rating, a trail description and full map. All maps are up to date and can be accessed without WiFi. (Price: $0.99)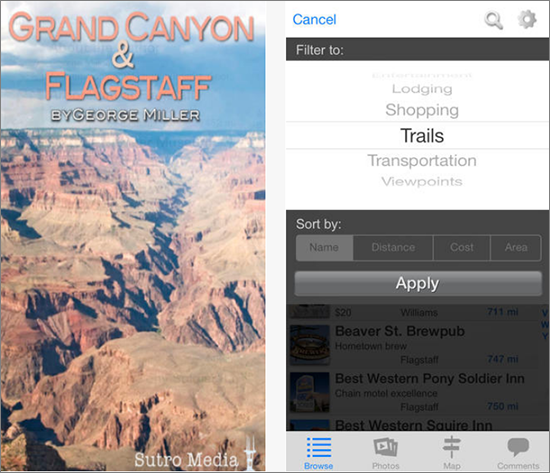 Find everything you need to know about the Grand Canyon, Flagstaff, Williams, and Tusayan to plan your trip: awesome grand canyon deals, accommodations, shopping information, trails, maps, history of the canyon, restaurants, transportation, scenic byways and a lot more. This is a pretty thorough app, easy to use, and the app was created using information by writer and expert George Miller. Comes with some lovely photographs, as well.
Do you know of any good apps for the iPhone that help you learn about or plan a trip to the Grand Canyon? Let us know in the comments.
By Jessy Troy – Jessy is the social media enthusiast and lifestyle blogger. You can follow my ramblings at @JessyTroy